BACK ON STAGE TOUR – Lunatic Man's Dream, As We Fucked & Birth Of The Wicked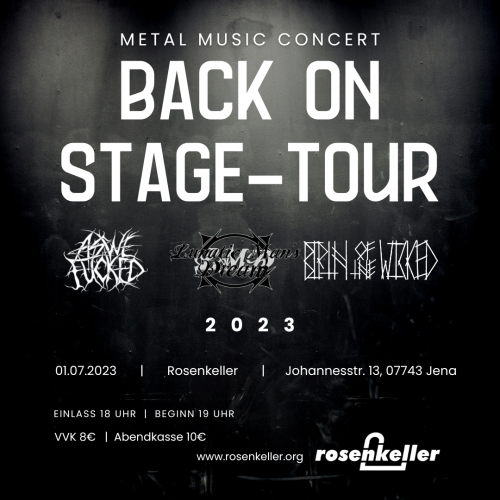 BACK ON STAGE TOUR – Lunatic Man's Dream, As We Fucked, Birth Of The Wicked
Der Name ist Programm. Mit neuen Releases im Gepäck werden
brachiale und mitreißende Metal-Sounds aus jeder Pore des Rosenkellers herausgeschallt. Dafür werden die Bands von Lunatic Man's Dream, As We Fucked & Birth Of The Wicked sorgen. Die
Metal-Genres sind mit Thrash, Progressive, Melodic, Death & Black Metal breit gestreut. Kommt
vorbei und werdet Teil eines unvergesslichen Live-Band-Metalabends.
Einlass: 19 Uhr
Beginn: 20 Uhr
VVK: 8€
Tickets: https://tickets.vibus.de/00100175000000/shop/vstdetails.aspx?VstKey=10017500004311000
AK: 10€
Lunatic Man's Dream:
• Musicvideo: https://www.youtube.com/watch?v=uU6lBNvOy-0…
%27sDreamOfficial
• Social Media: https://linktr.ee/LunaticMansDream
As We Fucked:
• Live Video: https://youtu.be/HmZF1IX11X0
• Social Media / Music: https://linktr.ee/aswefucked
Birth Of The Wicked
• Musicvideo: https://youtu.be/uv7wiCfre-I
• Social Media: https://m.facebook.com/BirthOfTheWickedOfficial